Yesterday, Oxford Hackspace held its first regular open day for people interested in textiles. It has been a long haul returning the flood-damaged former Council education department walk-in safe to a usable condition as our textile room, and this event marked both its grand opening and an attempt to use it to foster a new community to join the others within the space.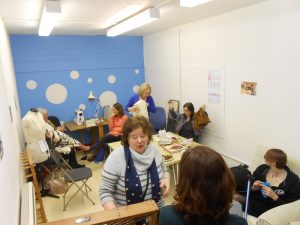 It was pleasing then to see almost thirty enthusiastic textilists coming to our door to see the facility for themselves and spend an afternoon socialising and working on their projects. We are anxious that the direction our textile work takes is directed by its users, so we were asking them how they would like to take it forward. Immediately we found a group with an interest in weaving, as well as some fascinating felt work alongside the knitting and sewing projects. There was a suggestion of a group project, a collaborative hackspace logo for the wall, and considerable enthusiasm for future textile open days.
We owe a big thanks to all the people who came along, for turning our dream of a bustling textile room into a reality. Future textile open days will continue on the first Sunday afternoon and third Friday evening of each month, though check our events page to stay up to date before you come along. Our next one will thus be on the evening of the 17th of February.