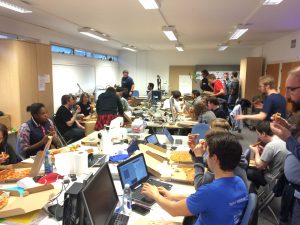 Oxford Hackspace is an independent space in the centre of town for the hacking needs of our diverse, creative and talented maker community. Thanks to the generous support of The Oxford Trust, we have a lovely space in the basement of their building, the Oxford Centre for Innovation, that is equipped with numerous tools and has a thriving community.
We are open during every day but Sunday from 10am, and in the evenings 7 days a week. We also have a weekly open/social night every Thursday evening from 7pm to 11pm during which everyone is welcome to attend, even if they are not a member.
Wherever your interest lies, this is a space to do it. We have a fully equipped electronics studio, a laser cutter, a 3D mill, several 3d printers, a fully equipped textile room, numerous hand tools, microcontrollers, and computers galore.  You are always welcome to do your own thing or take part in the frequent workshops we run. The more diverse our group becomes, the more stuff you will learn. Come and introduce yourself to the community on the mailing list, where your ideas and enthusiasm are sure to be met with excitement.
Our members' interests include crafting, textiles, visual arts, programming, electronics, science, metalwork, woodwork, multi-rotors and drones, 3D printing, and much more. If you're looking for a place in Oxford to work on projects or you are seeking like-minded people to work with, then get in contact. Oxford Hackspace welcomes all kinds of members interested in any kind of making.